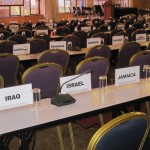 The Peace and Justice Initiative was founded in 2010 by Anna Kotzeva, Vessela Terzieva and Karim Khan QC. It is registered as a foundation ("Stichting") under the laws of the Netherlands.
It has three directors:
Matthew Gillett who currently works as a trial lawyer in the Office of the Prosecutor at the ICTY. He was previously in the Immediate Office of the Prosecutor at the ICC and was a member of the New Zealand Delegation to the Kampala Review Conference.
Manuel Ventura, who has been a teaching assistant in international relations and international law at Macquarie University and the University of New South Wales in Sydney, Australia. He has worked in the Office of the Prosecutor at the ICTY and interned for President Antonio Cassese in the Appeals Chamber of the Special Tribunal for Lebanon. Manuel also worked as a law clerk to the Chief Justice of the Constitutional Court of South Africa. He is a contributor to the Oxford Reports on International Law: International Law in Domestic Courts, The Global Community: Yearbook of International Law and Jurisprudence and has published widely on international criminal law.
Karim A.A. Khan, instructed as defence counsel in various cases before the ICTY, ICC, and the Special Court for Sierra Leone. He has also acted as counsel for civil parties (victims) before the Extraordinary Chambers in the Courts of Cambodia and has worked in the Office of the Prosecutor of the ICTY and the International Criminal Tribunal for Rwanda.
They can be contacted at:
manuel.ventura@peaceandjusticeinitiative.org
matthew.gillett@peaceandjusticeinitiative.org
karim.khan@peaceandjusticeinitiative.org
The general enquiries email address is info@peaceandjusticeinitiative.org.