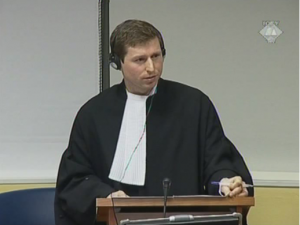 Matthew Gillett
Matthew is a Legal Officer in the Office of the Prosecutor of the ICTY, who has worked on several cases involving war crimes, crimes against humanity, and genocide, including Hadzic, Mladic, Lukic and Lukic, Popovic et al, and Prlic et al. In 2016, he worked as a Human Rights Officer for the United Nations in Afghanistan. Previously he worked at the International Criminal Court in the Immediate Office of the Prosecutor and in New Zealand as a criminal defence barrister and as a legal officer at the High Court. He has written several articles on international criminal law, including on crimes against the environment, and was a member of the New Zealand delegation to the Review Conference of the ICC in Kampala in 2010, where the amendments on the crime of aggression were adopted.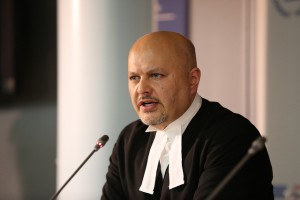 Karim A.A. Khan QC
Karim has extensive experience in conducting cases before the ICTY, the International Criminal Tribunal for Rwanda (ICTR), the International Criminal Court (ICC), the Extraordinary Chambers in the Courts of Cambodia (ECCC) and the Special Tribunal for Sierra Leone, having been Lead Defence Counsel for Charles Taylor and Lead Counsel for the largest group of victims in the case against Duch at the ECCC. At the ICC, he was Defence Counsel for Jean-Pierre Bemba (CAR) and Abu Garda (Sudan), and is currently Defence Counsel in the cases of Banda (Sudan) and Ruto (Kenya). He is a former Senior Crown Prosecutor in England. He is representing the Minister of Transport and Communications in the first EULEX prosecution in Kosovo. Karim was a member of the Criminal Bar Association working group on the ICC Act 2001 and he was part of the PJI team reviewing the Ghanaian ICC Bill. He is a director of the Peace and Justice Initiative and a member of the ICTY Disciplinary Board. Karim has published extensively, including as a co-author of Archbold "International Criminal Courts", Sweet & Maxwell, 1st ed. 2003; 2nd ed. 2005, 3rd ed. 2009; as a contributor to "Human Rights Practice", Sweet & Maxwell; as a contributing author to "A Commentary to the Rome Statute on the ICC", Baden-Baden, 2000; 2nd ed. 2008; as co-editor of the International Criminal Law Reports, Cameron May, 2006 to present and as a co-editor of "Principles of Evidence in International Criminal Justice" (OUP, 2010).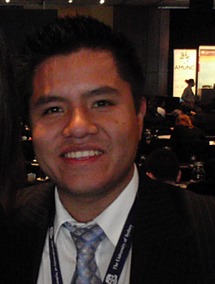 Manuel Ventura
Manuel is a legal adviser and academic, currently working in the Appeals Chamber of the STL. He has worked in the Office of the Prosecutor of the ICTY, primarily on the Karadzic and Hadzic cases, and in the Ruto (Kenya) Defence team at the ICC. He has published several articles, blog posts, and book chapters on international criminal law and has taught at various institutions around the world. He is an Adjunct Fellow at Western Sydney University and has formerly clerked for Chief Justice Mogoeng Mogoeng of the Constitutional Court of South Africa and President Antonio Cassese at the STL.